About Us
The best quality and service. Guaranteed.
Who is Cambridge Exteriors?
Why should you use our services?
What makes us more unique?
---

What's in a Name?
Well, a whole lot for us… "Cambridge" is the name of the development that my family lived in for over twenty years.
I was raised in Marlton, NJ, and it's a place we have fond memories of and where my knowledge of contracting began. So, it's important that like the name, this company remains true to it's roots of the community and area it came from. We're focused on providing the best service and resources to the South Jersey area, it's our home. We know the houses and we know the neighborhoods. It's part of our background and who we are. The bottom line is Cambridge Exteriors, LLC is a family owned and operated business. We have extensive knowledge installing Roofing, Siding and Windows. We are experts at our craft. We've been doing work in the South Jersey area for many years and we have many references in the area.
We commend you for taking the time to do this kind of research. We want you to feel completely comfortable that we will take care of your home and give you the best quality and service you pay for. We understand how hard it can be to make those decisions when it comes to home renovations. You want to find the right people to do the job right. We guarantee our work 100% and we will make sure you are absolutely satisfied.
We know you won't be disappointed.
---
Awards & Certificates

Angie's List Super Service Award
Cambridge Exteriors Earns Esteemed 2013 Angie's List Super Service Award Award reflects company's consistently high level of customer service.
Cambridge Exteriors has earned the service industry's coveted Angie's List Super Service Award, reflecting an exemplary year of service provided to members of the consumer review service in 2013. Learn more.
---
GAF Master Elite Contractor
To ensure your total satisfaction, Master Elite™ contractors have been provided with extensive educational materials developed by GAF's technical experts—allowing them to stay current in the latest roof installation techniques. That's why GAF has authorized them to offer enhanced system warranties—one of which even includes a program that offers a factory inspection of your finished roof!
Because of GAF's stringent standards, only 3% of all roofing contractors have qualified as Master Elite™ contractors! Choosing a GAF Master Elite™ contractor is your assurance that you'll be dealing with a quality, reputable, and dependable professional contractor — not some "fly-by-nighter."
---
GAF Training Excellence Award
Signifies that this contractor has been awarded GAF's Training Excellence Award. Indicates that the contractor has demonstrated an exceptional commitment to ongoing technical training and continuous improvement — for superior roof installation. Most consumers recognize that choosing a roofer can be a confusing and sometimes risky decision. In fact, the Better Business Bureau lists roofing as one of the highest inquiry categories nationwide. As a factory-certified Master Elite Contractor, Cambridge Exteriors, LLC has been carefully pre-screened by GAF.
As a GAF Master Elite™ Contractor, they are also dedicated to continuous improvement and training through access to CARE (the Center for the Advancement of Roofing Excellence). CARE is a non-profit educational institute supported by GAF and dedicated to changing an industry through excellence in education.
---
GAF Consumer Protection Excellence Award
Signifies that this contractor has been awarded GAF's Consumer Protection Excellence Award. Indicates that the contractor has an exceptional understanding of the benefits of installing complete roofing systems with superior warranty protection — for your peace of mind.
---

Better Business Bureau A+
BBB letter grades represent the BBB's opinion of the business. The BBB grade is based on BBB file information about the business. BBB assigns letter grades from A+ (highest) to F (lowest).
---
CertainTeed 5-Star Contractor
This signifies the top level for siding and millwork contractors. To qualify as a CertainTeed 5-Star Contractor, a contractor must successfully complete the following elements: Master Craftsman coursework, Continuing education, coursework covering product installation, sustainable building and business best practice. Must provide proof of Workers Compensation (where required by law) and General Liability insurance. They must maintain a high rating with the Better Business Bureau and use CertainTeed's high-quality products in the work they perform.
---
Wellborn Authorized Contractor
Each Wellborn Authorized Contractor has gone through extensive training geared to helping you create a kitchen of your dreams. From expert design services to detailed project management, you will have that reassurance that you know that your project is being handled in the most professional way. Wellborn Authorized Contractors realize that your home is one of your most precious assets and will strive to keep your inconvenience to a minimal amount. Getting the project scheduled correctly and expedited so you can have your home back in the least amount of time is always at the highest priority.
---
Meet your Cambridge team:

Marc Somers
owner / sales / design / remodeling
Marc has 22 years of experience in residential roofing, siding, windows and the home remodeling business. Marc started Cambridge Exteriors in 2000. He oversees all daily operations of the company. He has numerous certifications ranging from: Wellborn Cabinetry, GAF Master Elite Roofing Contractor, Certainteed 5-Star and Azec Decking Products.
---
John Smith
sales manager
John has over 25 years experience in roofing, siding and windows. John has been with Cambridge for over 7 years. John has won many awards for customer service as well as certifications including: VSI Certified Siding Contractor, 5-Star Certainteed Member, and GAF CARE Training. John can assist any homeowner in making the right exterior choices for their home.
---

James Pierce
project management
James has been with Cambridge for 10 years and comes with over 20 years of experience in the industry. James runs the daily operations of all the roofing and siding projects. He will meet the crew in the morning, greet the homeowner and follow thru to the job is complete with all the final details . He will make sure your home is well taken care of and your completely satisfied.
---
Ray Andress
project manager / carpentry
Ray has 23 years experience in the business and has been with Cambridge for 10 years. Ray is in charge of running daily project whether it's a deck, bathroom, siding, addition or a service call. Ray can do it all from repair work to exterior projects. Ray is hands on while working on your home and makes sure the installation runs smoothly. Ray also has the following certifications: GAF CARE Training, Certainteed 5-Star, Azec Decking.
---
Why you should choose Cambridge for your next home improvement project?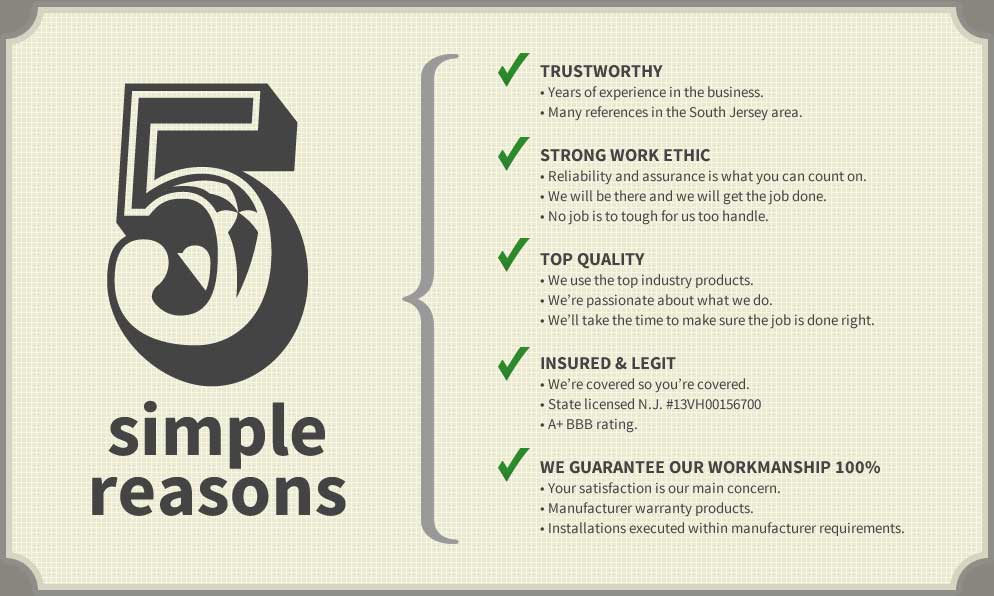 Locations
Cambridge Exteriors is proud to announce that we serve more than just a few locations in the New Jersey area.
We're the quality roofing and home exterior specialists in your neighborhood that can provide you with a new roofing system, re-roofing over your old roof, roofing repairs that are both small and large, storm damage and insurance claims, skylight installations, gutter replacement and cleaning, roofing inspections, and so much more.
Though our high quality roofing services are what many people rave about, we also offer a variety of other home exterior and some interior services, including siding repairs, siding installation, window installation, window repair, and home renovations. The home renovations that we're specialized in are as follows: kitchen renovation, bathroom renovation, deck installation and home additions. Take note because we also provide snow removal when in season.
It's important that you understand that if you don't take care of your home or commercial building, it simply won't last a lifetime like you had hoped. We are the one and only GAF MasterElite™ go-to roofing contractors and home exterior experts that you can trust in the Marlton, New Jersey area, and we have testimonials to prove it. We have experienced roofing technicians and renovation specialists who are ready to evaluate your roof for damages and/or problems that you may be unaware of.
If you don't see a location listed that you need service in, feel free to give us a call or contact us online to learn if services are available to you.